Overview
A heel spur is a hook that can form on the calcaneus (heel bone) and can also be related to plantar fasciitis (inflammation of the tissue in the foot?s arch). People who have plantar fasciitis often develop heel spurs. Middle-aged men and women are more prone to heels spurs, but all age groups can be afflicted. Heel spurs can be found through an x-ray, revealing a protruding hook where the plantar fascia is located.
Causes
Bone spurs can form anywhere in the feet in response to tight ligaments, repetitive stress injuries (typically from sports), obesity, even poorly fitting shoes. For instance, when the plantar fascia on the bottom of the foot pulls repeatedly on the heel, the ligament becomes inflamed, causing plantar fasciitis. As the bone tries to mend itself, a bone spur forms on the bottom of the heel, typically referred to as a heel spur. This is a common source of heel pain.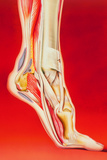 Symptoms
Major symptoms consist of pain in the region surrounding the spur, which typically increases in intensity after prolonged periods of rest. Patients may report heel pain to be more severe when waking up in the morning. Patients may not be able to bear weight on the afflicted heel comfortably. Running, walking, or lifting heavy weight may exacerbate the issue.
Diagnosis
Heel spurs and plantar fasciitis are diagnosed based on the history of pain and tenderness localized to these areas. They are specifically identified when there is point tenderness at the bottom of the heel, which makes it difficult to walk barefoot on tile or wood floors. X-ray examination of the foot is used to identify the bony prominence (spur) of the heel bone (calcaneus).
Non Surgical Treatment
Since heel spurs are not an indication of pain themselves unless fractured, treatment is usually aimed at the cause of the pain which in many cases is plantar fasciosis. Treatment of plantar fasciiosis includes; rest until the pain subsides, special stretching exercises and if required orthotics may be prescribed.
Surgical Treatment
More than 90 percent of people get better with nonsurgical treatments. If conservative treatment fails to treat symptoms of heel spurs after a period of 9 to 12 months, surgery may be necessary to relieve pain and restore mobility. Surgical techniques include release of the plantar fascia, removal of a spur. Pre-surgical tests or exams are required to identify optimal candidates, and it's important to observe post-surgical recommendations concerning rest, ice, compression, elevation of the foot, and when to place weight on the operated foot. In some cases, it may be necessary for patients to use bandages, splints, casts, surgical shoes, crutches, or canes after surgery. Possible complications of heel surgery include nerve pain, recurrent heel pain, permanent numbness of the area, infection, and scarring. In addition, with plantar fascia release, there is risk of instability, foot cramps, stress fracture, and tendinitis.